Dare to Lead™ Workshops
Launceston: Monday 6 – Tuesday 7 March at Tailrace Centre
Hobart: Wednesday 8 – Thursday 9 March at Wrest Point
When we dare to lead, we don't pretend to have the right answers; we stay curious and ask the right questions. We don't see power as finite and hoard it; we know that power becomes infinite when we share it with others. We don't avoid difficult conversations and situations; we lean into vulnerability when it's necessary to do good work.
Dr Brene Brown's Dare to Lead™ Program is an empirically based courage-building leadership program delivered over two days, designed to give you and your teams a deep understanding of the four skills needed for true courage-building, values-based leadership, leaning into vulnerability and how to rumble with difficult conversations for better whole-of-business outcomes.
The Dare to Lead™ in-person multi-day program focuses on developing these courage-building skills to help individuals, teams and organisations move from armored leadership to daring leadership. This challenging program is one of the most sought-after leadership and culture interventions globally to build sustainability into organisations that will survive into the next decades of rapid change.
What you'll learn in the training:
Leadership courage is a collection of four learnt skills. In this two-day workshop you will learn how to build brave cultures & drive performance by:
Navigating Vulnerability
Leading with Values
Building Trust
Rising from Setbacks
Participants explore Dr. Brené Brown's research, complete a leadership assessment and learn how to connect, navigate difficult conversations and hold other's accountable for success.
Facilitated by Dr Polly McGee and Zoë Coyle: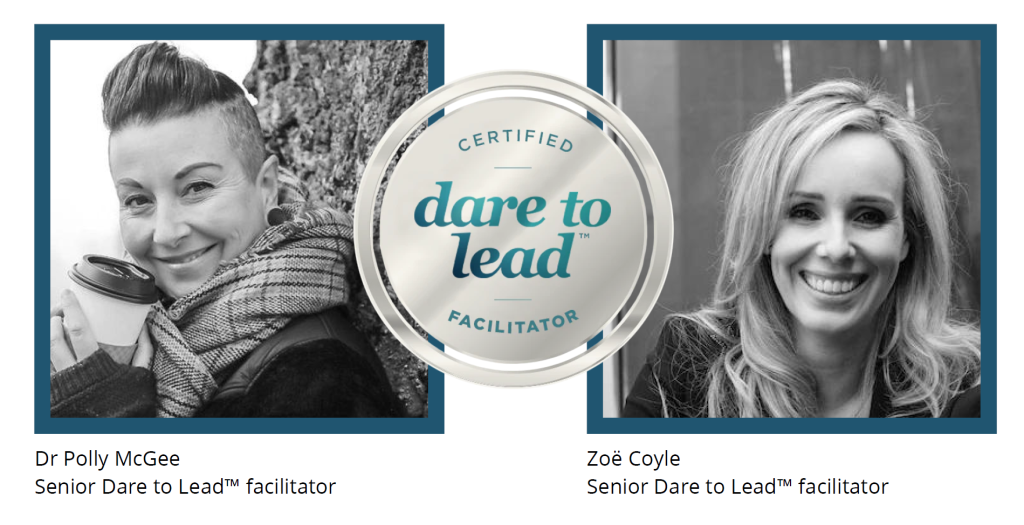 Your investment: $1750* inc. GST.
Price includes attendance at this in-person 2-day immersive Dare to Lead™ workshop, including catering and an exclusive Dare to Lead™ workbook only available through this program. Tickets are limited, book now to secure your place for this whole-of-life changing leadership work.
Book now for Launceston Dare to Lead™
Book now for Hobart Dare to Lead™
*Concession rates are offered to Tasmanian Leaders alumni and group bookings of 10+ delegates. For assistance with your group booking, please contact simone.hackett@tasmanianleaders.org.au
Dare to Lead™ Graduate Class
Hobart: Friday 10 March at Wrest Point
An advanced class to take your leadership skills to the next level. Based on the research of Dr. Brené Brown, Dare to Lead™ is an empirically based courage building program for leaders, teams and individuals. Brené has spent the past two decades studying courage, vulnerability, shame, and empathy. This program is an advanced class designed specifically for those who have completed the Dare to Lead program.
In this 1-day Dare to Lead Graduate Class, we will revisit the most important parts of this ground-breaking work and the tools and practices to operationalise becoming a Daring Leader. You will deepen your understanding of the knowledge and skills you learned during the 2-day Dare to Lead program and reflect on your progress and growth since you completed the program.
Your investment: $875 inc. GST.
Price includes attendance at this in-person immersive Dare to Lead™ Graduate Class, including catering and an exclusive Dare to Lead™ Graduate workbook.
Book now for the Dare to Lead™ Graduate Class
*Concession rates are offered to Tasmanian Leaders alumni and group bookings of 10+ delegates. For assistance with your group booking, please contact simone.hackett@tasmanianleaders.org.au