Dare to Lead™
This highly anticipated 2-day workshop will take place in Hobart 20-21 May and in Launceston 23-24 May 2024. A one-day graduate class to deepen and extend your Dare to Lead™ experience will be held 27 May 2024.
Dare to Lead™ program
When we dare to lead, we don't pretend to have the right answers; we stay curious and ask the right questions. We don't see power as finite and hoard it; we know that power becomes infinite when we share it with others. We don't avoid difficult conversations and situations; we lean into vulnerability when it's necessary to do good work.
Dr Brené Brown's Dare to Lead™ Program is an empirically based courage-building leadership program delivered over two days, designed to give you and your teams a deep understanding of the four skills needed for true courage-building, values-based leadership, leaning into vulnerability and how to rumble with difficult conversations for better whole-of-business outcomes.
The Dare to Lead™ in-person multi-day program focuses on developing these courage-building skills to help individuals, teams and organisations move from armored leadership to daring leadership. This challenging program is one of the most sought-after leadership and culture interventions globally to build sustainability into organisations that will survive into the next decades of rapid change.
What you'll learn in the training:
Leadership courage is a collection of four learnt skills. In this two-day workshop you will learn how to build brave cultures & drive performance by:
Navigating Vulnerability
Leading with Values
Building Trust
Rising from Setbacks
Participants explore Dr. Brené Brown's research, complete a leadership assessment and learn how to connect, navigate difficult conversations and hold others accountable for success.
Facilitated by Dr Polly McGee and Zoë Coyle: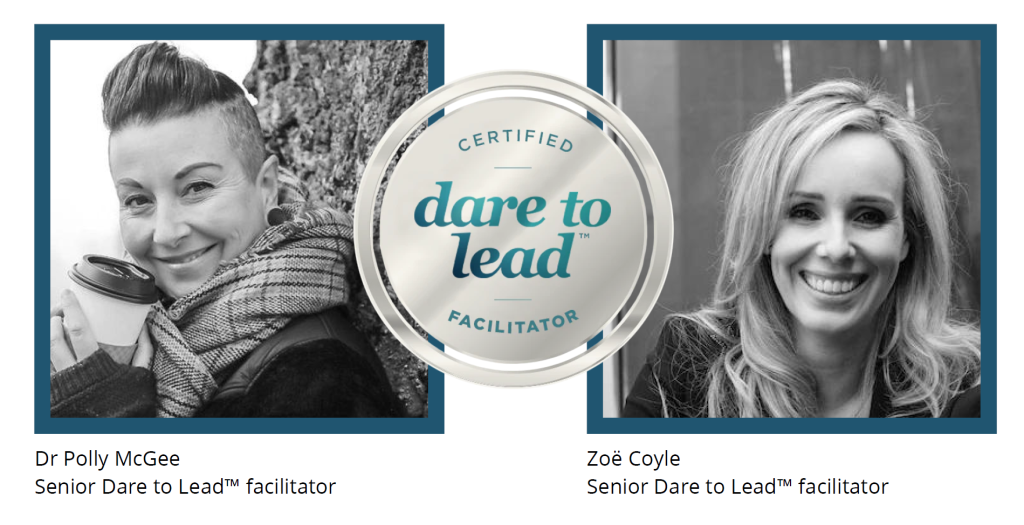 Express Interest to be the first to know when we open registrations